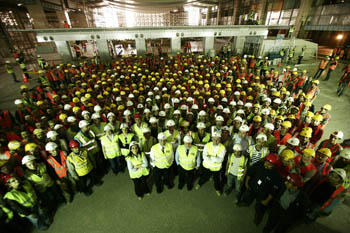 Simetri Tasarım got into the action in 21 March Tropic with the aim of showing equinox as a reference both for its title and for the world for serving about the planning and application of the introduction, mounting and manufacturing of the constructions.
Our firm that has completed lots of prestigious projects successfully since the day it was founded, specialized in especially airport craftsmanship. TAV Insaat A.S. completed its obligations in Istanbul Ataturk Havalimanı, Anakara Esenboğa Havalimanı in inland; and in International Airports TB3 Cairo/Egypt and Enfidha/Tunusia Zin-El Abidin Ben Ali abroad with success.
Simetri Tasarım that can create right solutions to the details met during the application, that can enable the right adaptation of the goods emerging with the developing technology with together, that uses long lived and easily repaired equipments and as a solution which can create economic solutions in both application and usage periods will continue developing itself and serving its country with its professional team, a 800 employee expert team pool and experienced subcontractors.